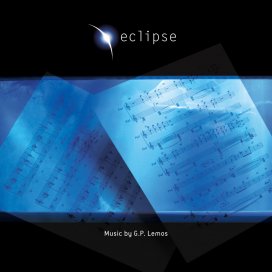 eclipse
A phenomenon of indelible admiration within time. Where the dark meets the light, a moment when reality becomes a dream, a crack within time…

So many concepts and emotions that are encapsulated only in one word which is the title of this album, chosen by its creator, George P. Lemos.

The album "eclipse" was released in 2007 by "virus music" with 14 tracks (eight of which were orchestral). George P. Lemos composed the music and the lyrics in three of the six tracks. In the rest we find the lyrics writers Sevi Tiliakou and Giota Xalkidou. The songs are performed by Era Roussi and Giannis Stathis in the duet "together".

Feel free to travel with Argentine tango, symphonic folklore island dance, and the song he wrote for his beloved wife on their wedding day.
The proceeds of the album were donated to the "Oinnoussian Development Center."
Release:

virus music 2007

Tracks:

14 (8 instrumental)

Music:

G. P. Lemos

Lyrics:

G. P. Lemos, S. Tiliakou, G. Halkidou

Arrangement:

D. Fokas

Performed by:

E. Rousi, G. Stathis